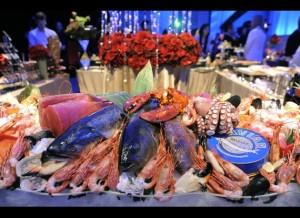 Written by Charmaine Wilkerson
Wolfgang Puck has been the Oscar's Governor's Ball celebrity chef for 18 years and I  have had the pleasure to see him as I worked the event, on and off, for the past 10 years.  He has always wowed the celebrity guests with his impeccable service and impressionable dishes.
This year, for the first time, he is creating a complete buffet-style dinner instead of his traditional combination of sit-down dinner and butlered style service.
Wolfgang is preparing over 50 dishes and serving them lounge style where guests walk around the lavish displays.
One of the main things I noticed was that the guests were always milling around, looking to see who was seated where.  But the majority of the guests where not seated.
They were "schmoozing".  Most of the guests asked me the same question, where is so and so seated.  This is the opportunity for actors to network with producers and directors after being seated in the same seat without moving for the past 4 hours in the theater of the awards show.
How do most people get their next job?  Networking…even celebrities.
84th Annual Academy Awards® Governors Ball Menu

Tray-Passed
Smoked Salmon on Oscar® Flatbread with Caviar and Crème Fraiche
Spicy Tuna Tartare in Sesame Miso Cones with Masago
Mini Kobe Cheeseburger with Remoulade and Aged Cheddar
Pork Belly Dumplings with Soy and Ginger
Crab Cakes with Remoulade
Arrancini with Tomato, Basil and Parmesan
Tempura Shrimp with Wasabi Glaze
Vegetable Spring Roll with Sweet Chili Sauce
Assorted Pizzas
Cold Appetizer Platter
Lobster Taco with Tomato and Pickled Shallots
Caprese Skewer with Bufala Mozzarella, Tomato and Basil
Potato Latke with Smoked Sturgeon and Horseradish
House Made Pretzel Bread with Beer Cheddar Fondue and Mustard Aioli
Prosciutto Grissini
Small Plates
Chicken Pot Pie with Shaved Black Truffles and Roasted Vegetables
Fuji Apple Salad with Crumbled Blue Cheese, Arugula, Shaved Red Onion and Apple Cider Vinaigrette
Beet Tortelloni with Goat Cheese and Toasted Hazelnuts
Gold Wrapped Baked Potato with Caviar and Crème Fraiche
Slow Braised Short Rib with Polenta and Romesco
Crab and Lobster Louie with Horseradish Panna Cotta and Marinated Tomatoes
Macaroni & Cheese with Aged Cheddar
Shanghai Lobster with Coconut Curry, Jasmine Rice and Pickled Ginger
Chinois Lamb with Cilantro Mint Vinaigrette
Beet Salad with Pistachio Butter, Burrata and Citrus Balsamic
Seafood and Sushi Buffets
Sushi with Wasabi, Soy and Ginger: Rolls, Nigiri and Sashimi
Shellfish with Mustard and Cocktail Sauce: Prawns, Lobster, Stone Crab and Oysters
Passed Dessert
Almond, Orange-Brown Butter Cake with Blood Orange
Date Cake with Sticky Toffee Pudding and Toffee Orange Sauce
Chocolate in 3D
Golden Candy Apple
Banana Cream Pie with Candied Popcorn
Tart Tatin with Pretzel Pastry and Caramel Gelato
Chocolate Mousse in Golden Egg Cups
Dessert Buffet
Raspberry Rose Eclairs
Strawberry Shortcake Push-Up Pops
Red Hot Macaroons
Star Shortbread with Silver Sugar
Chocolate Peanut Butter Pops
Brown Sugar Lemon Meringue Cones
Chocolate Pudding Push-up Pops
Long Stem Strawberries
Chocolate Buffet
Chocolate Fountains with Farmers Market Long Stem Strawberries
Chocolate Paninis
Triple Chocolate Cupcakes
Warm Coulent Souffle Cakes
Chocolate Dobos Torte
Earl Grey Tea Truffles
White Chocolate Coconut Rum Truffles
Milk Chocolate Caramel Truffles
Chocolate Dipped Pop Rock Cakes
Chocolate Chip Cookies
Triple Chocolate Toffee Crunch Cookies
Chocolate Coffee Cups
Chocolate Toffee Cups
24 Karat Chocolate Oscars
Image & Video courtesy of Huffington Post