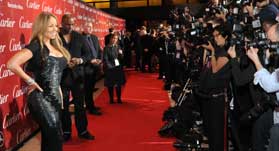 Liliana Wilkerson, Founder and Co-Owner of ahl EVENTS will once again, for the 5th year in a row, assist in managing the Gala Awards dinner at the Palm Springs Convention Center on Saturday, January 7, 2012.
Appoximately 2000 guests will attend this gala. The very special menu will be serviced by Executive Chef Brad Toles and his Assistans.
About 25O waiters will be at hand to service the star-studded guests.