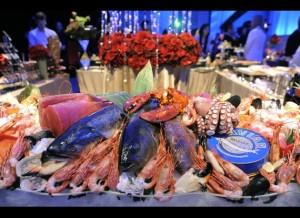 Written by Charmaine Wilkerson
Wolfgang Puck has been the Oscar's Governor's Ball celebrity chef for 18 years and I  have had the pleasure to see him as I worked the event, on and off, for the past 10 years.  He has always wowed the celebrity guests with his impeccable service and impressionable dishes.
This year, for the first time, he is creating a complete buffet-style dinner instead of his traditional combination of sit-down dinner and butlered style service.