Emmy's 2011 Governor's Ball Video
Pictures of the Ballroom

Ballroom Video
The theme of the night was Black and White with a touch of Fun.  There were pantomimes dressed in black and white checkered head-to-toe leotards that greeted guests as they entered through a tunnel of with rotating images like a fun house.  Servers with pre-poured champagne glasses were lined up at the entrance so they could sip as they walked inside.
The bands were phenomenal – The Motown Quartet, Impulse Orchestra, and Dave Sparkman Band.  There were dancing couples to get the crowd motivated but by the end of the evening the dance floor was packed.
6 bars outlined the ballroom stocked with Grey Goose Vodka.  3 of the bars were made of large ice sculptured fronts with the Grey Goose logo etched in.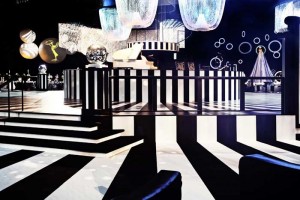 Aerialists, a la Cirque de Soleil style, performed synchronizing to the music.  A "Bubble Girl" was stationed behind the bar with a flowing skirt about 1 story high.  At the top of the skirt was a girls blowing bubbles as she grooved to the music (see above pic).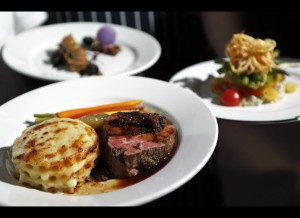 The food was catered by Chef Joachim Splichal of Patina Catering.
First course:  Windrose Farms Heirloom Tomatoes, Rosemary and Cherry Wood Grilled Asparagus, Fried Gold Potatoes
Entree: Filet Mignon, Gratin of Macaroni with Vermont White Cheddar, Rainbow Baby Carrots, Cipollini Onion, Caramelized Broccoli Emulsion, Oxtail Brodelaise
Dessert: Duncan Hines® Milk Chocolate Brownie, Chocolate Blackberry Cream, Blackberry Macaroon, Chocolate Rice Crisp, Honey Sauce
Charmaine Wilkerson, of ahl Events, was again selected to participate in the festivites!