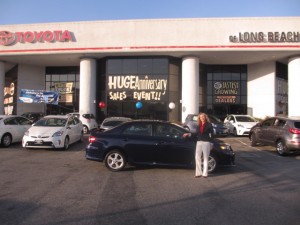 I'm so glad I bought my car when I did.  Two days after I bought my 2012 Toyota Corolla, my old car got hit!  My old car was parked in front of my house and this lady hit it head on.  It doesn't work now – undrivable!  (She's ok)
Searching for a new car can be fun but scary.  I visited 5 different dealerships and each time I entered the lot I felt like live bait in a shark tank.  At one of them I was actually cornered as the sales guy and the manager kept asking what could they do so I could drive off with a new car!  What a turn off!
That's one thing I liked about Hooman Toyota in Long Beach.  I didn't feel pressured.  What cinched the deal was the knowledgeable sales person and that this dealership offers more complimentary services besides the general Toyota Care.  Hooman Toyota offers, FOR THE LIFE OF THE CAR:
FREE oil changes
FREE tires
FREE car washes
If you're looking for a car, I highly recommend you visit Hooman Toyota and ask for Rico.  Call him at (562) 494-4444 and tell him Charmaine referred you!